LMP are excited to announce the writer and poet Selina Nwulu as the lyricist of 'The Anthem for Peace'
"Nwulu uses her pen as a compass directing us from her living room across the globe…poetry that breaks through roadblocks and borders, that is its own passport, its own common language. Brilliant."
— JOELLE TAYLOR
Selina is a writer, social researcher and campaigner with a focus on social and environmental justice, education and global politics. She has recently finished her tenure as Young Poet Laureate for London and has worked for a number of not for profit organisations including UN Women, the Equality and Human Rights Commission and is currently working with the RSA.
As a writer, Selina has written for outlets including for The Guardian, Red Pepper, Sable Litmag and The Free Word Centre and was Co-Editor for women's news portal, Women's Views on News for a number of years until 2012.
Selina has toured her poetry both nationally and internationally, most notably at Glastonbury, Edinburgh Fringe and StAnza Poetry Festival, St Andrews and Cúirt Literature Festival in Galway and has been commissioned by Apples and Snakes, the RSA, A New Direction and the Free Word Centre.
Her debut collection, The Secrets I Let Slip, was published by Burning Eye Books in 2015 and is a Poetry Book Society (PBS) recommendation.
Find out more about Selina and her incredible work here: www.selinanwulu.com
LMP's Anthem for Peace will be a new work highlighting the role of music as a force for good and a vehicle for bringing people together – something that is needed now more than ever. The work will feature a host of collaborators across classical, pop, hip-hop, grime and other genres, and of all ages, abilities and backgrounds. This project is part of LMP's Harmony in Conflict programme commemorating the centenary of WW1 which also includes our 2014 commission: Jonathan Dove's 'For an Unknown Soldier'.
LMP are currently running a crowdfunding campaign towards the Anthem via Spacehive and have so far achieve over 50% of the total amount, which includes a pledge of £1,000 from the Mayor of London. Deadline for pledges is 15th September.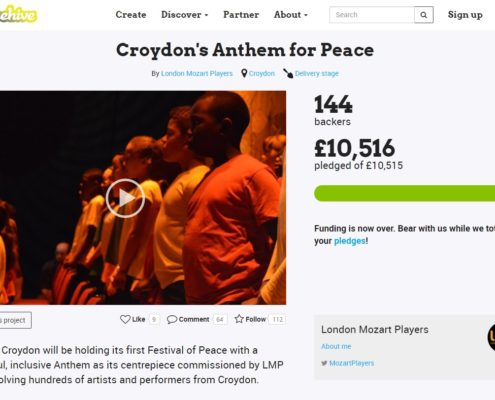 http://londonmozartplayers.com/wp-content/uploads/2017/09/Spacehive-100.jpg
812
1204
Jenny Brady
http://londonmozartplayers.com/wp-content/uploads/2013/04/logo-3.png
Jenny Brady
2017-09-12 16:12:21
2017-09-12 16:12:32
Anthem For Peace: Crowdfunder target achieved!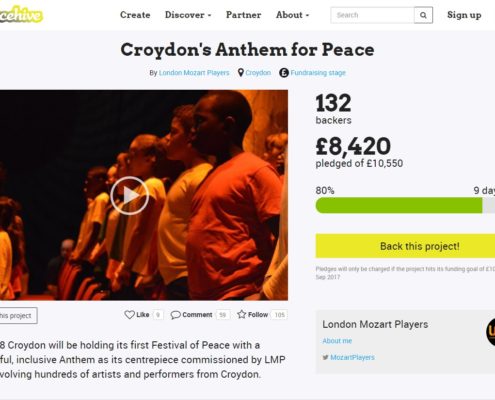 http://londonmozartplayers.com/wp-content/uploads/2017/09/Spacehive-80.jpg
825
1227
Jenny Brady
http://londonmozartplayers.com/wp-content/uploads/2013/04/logo-3.png
Jenny Brady
2017-09-07 14:38:29
2017-09-07 14:47:29
Anthem for Peace: Crowdfunder reaches 80%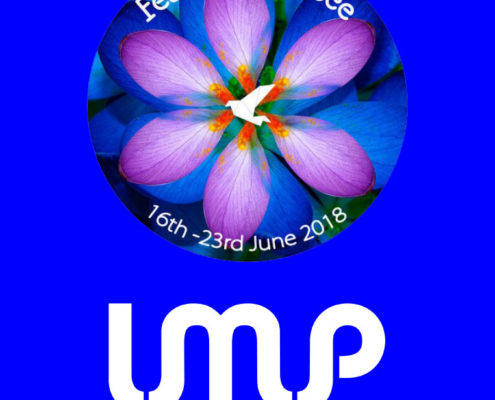 http://londonmozartplayers.com/wp-content/uploads/2016/08/Anthem-for-Peace-Front-Page-Slider-e1501843797966.jpg
831
762
Jenny Brady
http://londonmozartplayers.com/wp-content/uploads/2013/04/logo-3.png
Jenny Brady
2017-08-04 11:07:20
2017-09-07 14:52:39
Anthem For Peace: Receives Match Funding from Mayor of London