Join with LMP to sing the Anthem for Peace!
Music is a force for good and the perfect way to bring people together. We invite all singers and musicians around the world to unite with us to perform the Anthem for Peace!
It's one hundred years since the end of the First World War. To commemorate this anniversary, the London Mozart Players commissioned the Anthem for Peace to inspire music-lovers of all ages to express their desire for peace through the universal language of music. This modern-day anthem, with music by children's TV composer Richard Brown and lyrics by Thornton Heath poet Shaniqua Benjamin, can be played, rapped, sung, remixed or sampled by musicians of all abilities, ages, genres and backgrounds. Join in and make the anthem your own!
The music and lyrics for the Anthem for Peace are free for anyone to view, download, print and perform. We want all singers, choirs and music ensembles – young or old, amateur or professional – to perform it this year.
Simply download the music at the bottom of this page and rehearse it, adapt it and perform it with your choir or music group. We'd love to see and hear what you do with it! Share your performance on social media with the hashtag #AnthemforPeace.
Sing the Anthem at the Festival of Peace

If you are based in the south of the UK, why not join us to learn and perform the anthem at Croydon's Festival of Peace – we'd love you to be involved! Download the music at the bottom of this page and come along to:

Opening Event – 16th June, 3pm
Summer of Love Festival at Wandle Park
Join players from the LMP and Ecclesbourne School Choir to learn and sing the anthem for the first time together.

Closing Event – 23rd June, 3pm
Peace & Wellbeing Festival, Park Hill Park
There will be a finale Peace Parade and performance of the anthem with LMP and local brass players and a special dance commission by Anusha Subramanyam of Beeja Dance featuring local dance groups.
It's going to be an unforgettable experience, with choirs, schools and music groups taking centre stage. We're looking forward to welcoming you!
More information here:
[please note that the Festival of Peace will be photographed
and filmed for social media].
Buckingham Palace première for Anthem for Peace
Watch the video of the first performance of the Anthem for Peace at Buckingham Palace in November 2017.
The Anthem was sung by Ecclesbourne School Choir, accompanied by the London Mozart Players.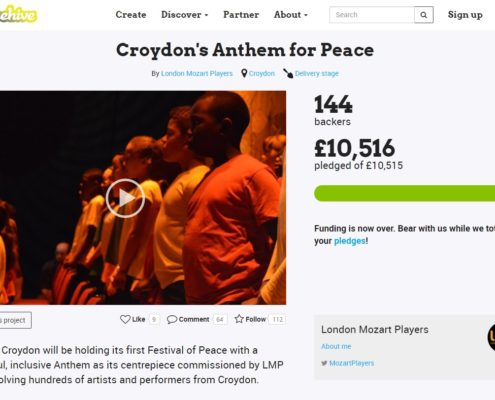 http://londonmozartplayers.com/wp-content/uploads/2017/09/Spacehive-100.jpg
812
1204
Jenny Brady
http://londonmozartplayers.com/wp-content/uploads/2013/04/logo-3.png
Jenny Brady
2017-09-12 16:12:21
2017-09-12 16:12:32
Anthem For Peace: Crowdfunder target achieved!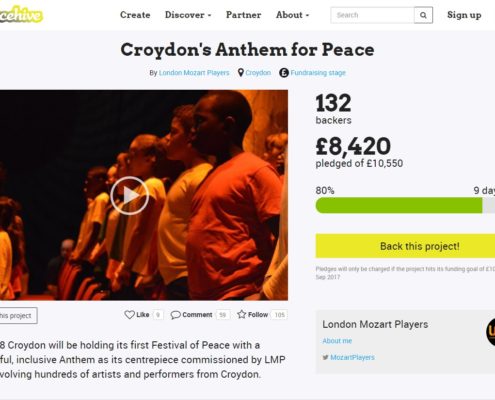 http://londonmozartplayers.com/wp-content/uploads/2017/09/Spacehive-80.jpg
825
1227
Jenny Brady
http://londonmozartplayers.com/wp-content/uploads/2013/04/logo-3.png
Jenny Brady
2017-09-07 14:38:29
2017-09-07 14:47:29
Anthem for Peace: Crowdfunder reaches 80%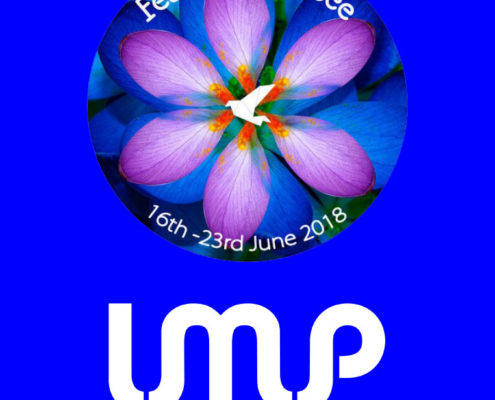 http://londonmozartplayers.com/wp-content/uploads/2016/08/Anthem-for-Peace-Front-Page-Slider-e1501843797966.jpg
831
762
Jenny Brady
http://londonmozartplayers.com/wp-content/uploads/2013/04/logo-3.png
Jenny Brady
2017-08-04 11:07:20
2017-09-07 14:52:39
Anthem For Peace: Receives Match Funding from Mayor of London
Click here to add your own text