Thursday 31 May 11:00am
12:00pm
FREE
LMP on the Move: Roald Dahl's The Three Little Pigs – Croydon Library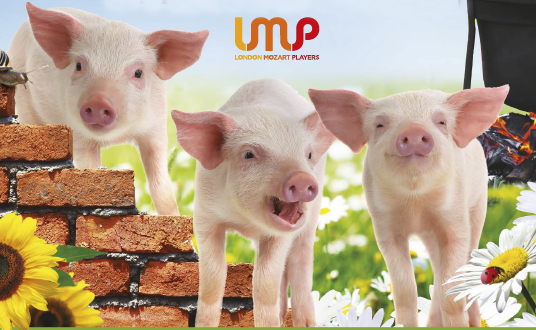 This event is now sold out!
Tickets are still available for the afternoon performance at New Addington Library at 2.45pm. Tickets available here: https://bit.ly/2Fx2C17

#LMP on the Move + Croydon Libraries Presents

ROALD DAHL'S THE THREE LITTLE PIGS
A riotous re-telling of this children's fable with live orchestra, fun for children of all ages!
LONDON MOZART PLAYERS
Music by PAUL PATTERSON | Narrated by REBECCA KENNY
Following last year's hit 'Little Red Riding Hood', the London Mozart Players are back at Croydon Libraries this half term with another musical treat for children of all ages – Roald Dahl's riotious re-telling of iconic children's fable The Three Little Pigs. Paul Patterson's lively music and Rebecca Kenny's spirited narration will bring Roald Dahl's hilarious tale to life.
With concerts at two venues and a free craft workshop before each concert, this is a wonderful way to keep your own little ones entertained this half-term!
Croydon Library, Croydon Clocktower, Katherine Street, Croydon CR9 1ET
Free Concert (please register for your ticket): 11.00am
Free craft workshop: 10.15am
You will need to email CroydonCentralLibrary@croydon.gov.uk to reserve your workshop place. 20 places only.
Sponsored by