Paintings by Michael Gibbison
Buy the original paintings featured in the LMP calendar
Commissioned specially by the London Mozart Players, artist Michael Gibbison has produced an array of paintings of the orchestra and its musicians. The prices and sizing for these paintings can be found by clicking on the gallery items below. Please note that many of the paintings come framed, but please enquire for further details if you wish to purchase.
50% of the profit of sales of these paintings will go towards developing the orchestra's education, community and outreach programme, LMP Voyager. To place an order for any of the items below, please email info@lmp.org or call 020 8686 1996. Please note the paintings are collection only.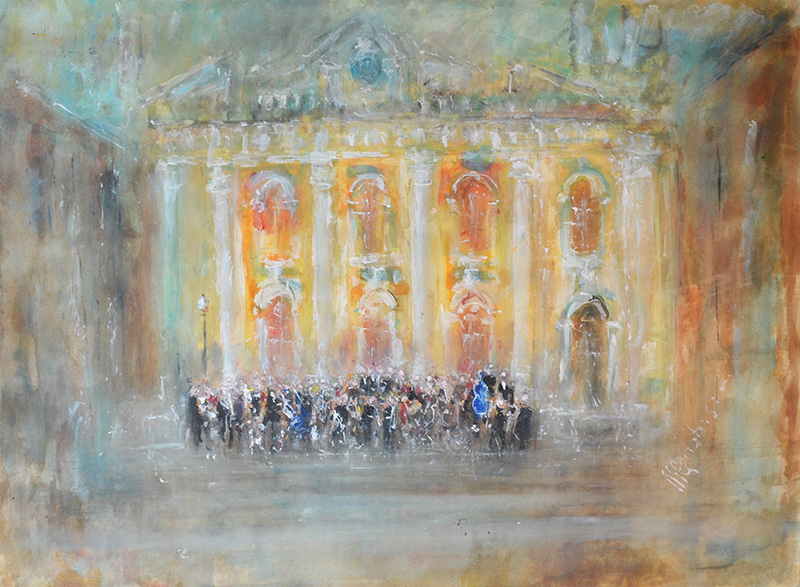 Michael Gibbison was born in Kettering, Northamptonshire on 18th December 1937. His father died whilst serving overseas during World War II and Michael was then raised by his mother Doris. Michael has always had a great love of art.  Unfortunately his early life gave few opportunities to pursue this passion as anything more than a hobby.  However, as a National Serviceman serving with the infantry in Aden he received his first chance to display his talent to a wider audience.  He submitted an exhibit (a sculpture) to the Regimental Exhibition in The Mall, London.  His entry was noticed by Barbara Hepworth who wrote him a letter of encouragement.
Upon leaving the army, Michael pursued a 'sensible' career as a plumbing and heating engineer.  He married Glennis and had three children.  At the age of 40 he felt compelled to seriously explore his artistic talents.  He joined the Market Harborough Art Group where he met Leicestershire painter Les Goodwin, who proved an extremely positive and supportive ally.
Michael has exhibited widely.  His works have been shown at: Vaughan College – Leicester (one man exhibition), Robinson College – Cambridge, Old House Gallery – Oakham, John Duncalfe Gallery – Harrogate, Judith Smith's Gallery – Harrogate, Croft-Wingate Gallery – Market Harborough, Museum of Art – Leicester, Royal Academy – London, Bristol Royal Academy, Soloman's Gallery – London, Redfern Gallery – London, Medici – London, Royal College of Art – London, The Albany Gallery – Cardiff, Mainhill Gallery – Jedburgh.